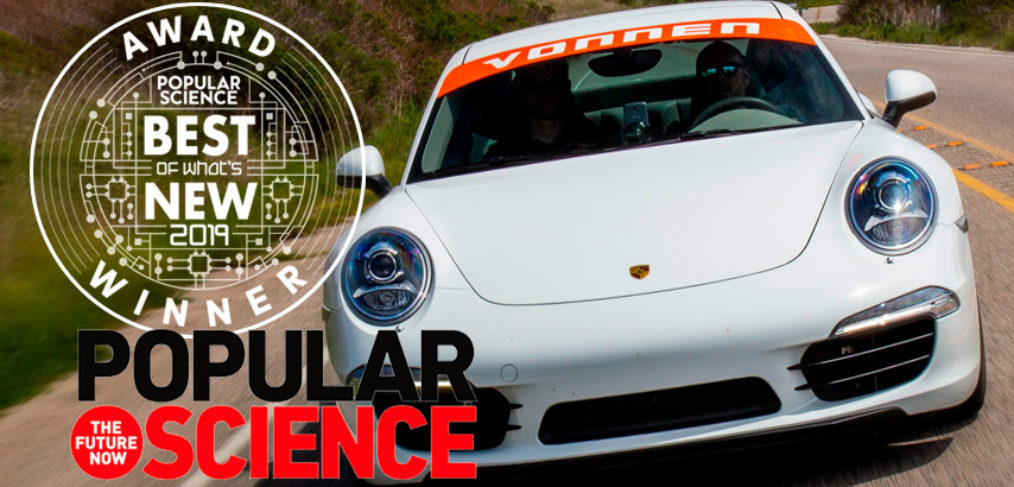 In Good Company
And Then This Happens

In Good Company


Volkswagen, GMC, Mazda, Porsche, Chevrolet, Harley Davidson, Lamborghini, Koenigsegg, Ram… and Vonnen. These were the winners of Popular Science's Best of What's New for 2019. As they framed it: "This year, the biggest automotive advances were all about maximizing efficiency… the best new stuff on the road will save time, fuel, and maybe even the planet."
Owners and the Vehicles They Love
As the newest and, by far, smallest company on this year's list, we were honored to find ourselves in the mix. As Popular Science themselves explained, we were deemed worthy based on "marking a new direction in hot-rodding old cars." Stepping back, this actually makes a lot of sense. Although Vonnen rolled out on select Porsche models, the vision has always been to scale and expand this technology to other platforms. With more than a billion vehicles in active service, we believe that the opportunity to provide a bridge between legacy vehicles with state-of-the-art technology is an important one. Unlike our fellow 2019 recipients, whose business model is predicated on selling something new to replace an existing vehicle, Vonnen's is about extending the relationship between owners and the vehicles they already own and love.
Performance Through Regenerated Electricity
Although our focus at launch has been, as Popular Science points out, "hot rodding," there's a profound environmental scheme underlining this. Not only is the nature of adding performance through regenerated electricity inherently green, more so, keeping vehicles on the road rather than replacing them is also a strong environmental statement when one factors in the carbon footprint associated with the alternative – treating vehicles as short-lived consumable and disposable commodities.
A Bond is Formed
The nature of enthusiasm for cars and motorcycles is one of transcendence. Through our passion and devotion, a bond is formed, and the machine becomes an extension of ourselves, representing the extent to which we hold dear the call of the open road. It's like a passport to life's great adventures. That relationship doesn't end just because there is something new introduced on the market with a fancier UI or updated different feature set.
New Stuff and Old Stuff
We applaud Popular Science for acknowledging that "the best new stuff on the road will save time, fuel, and maybe even the planet," even if that means that some of that new stuff is actually about extending the viability of old stuff.